CouchWarriors Crossup is Upon Us!
November 15, 2022
Written by Tom Anderson
We're just days away from the sensational last event of CouchWarriors League 2022, and the last Australian major of the year. CouchWarriors Crossup returns to Melbourne this weekend, with a bigger venue and bigger selection of fighting games to cap off another year's competition. That includes the highlight game from last CWC, DragonBall FighterZ – and the stakes will be high, as we are once again a DBFZ World Tour Power Event.
Both days of CouchWarriors Crossup feature packed triple-threat tournament schedules, simultaneously running Smash games, anime fighters and traditional FGC titles alongside one another all weekend. You can still register to play over at start.gg, so we thought it best to quickly run down everything that's going on, one more time, before our season finale kicks off.
The Schedule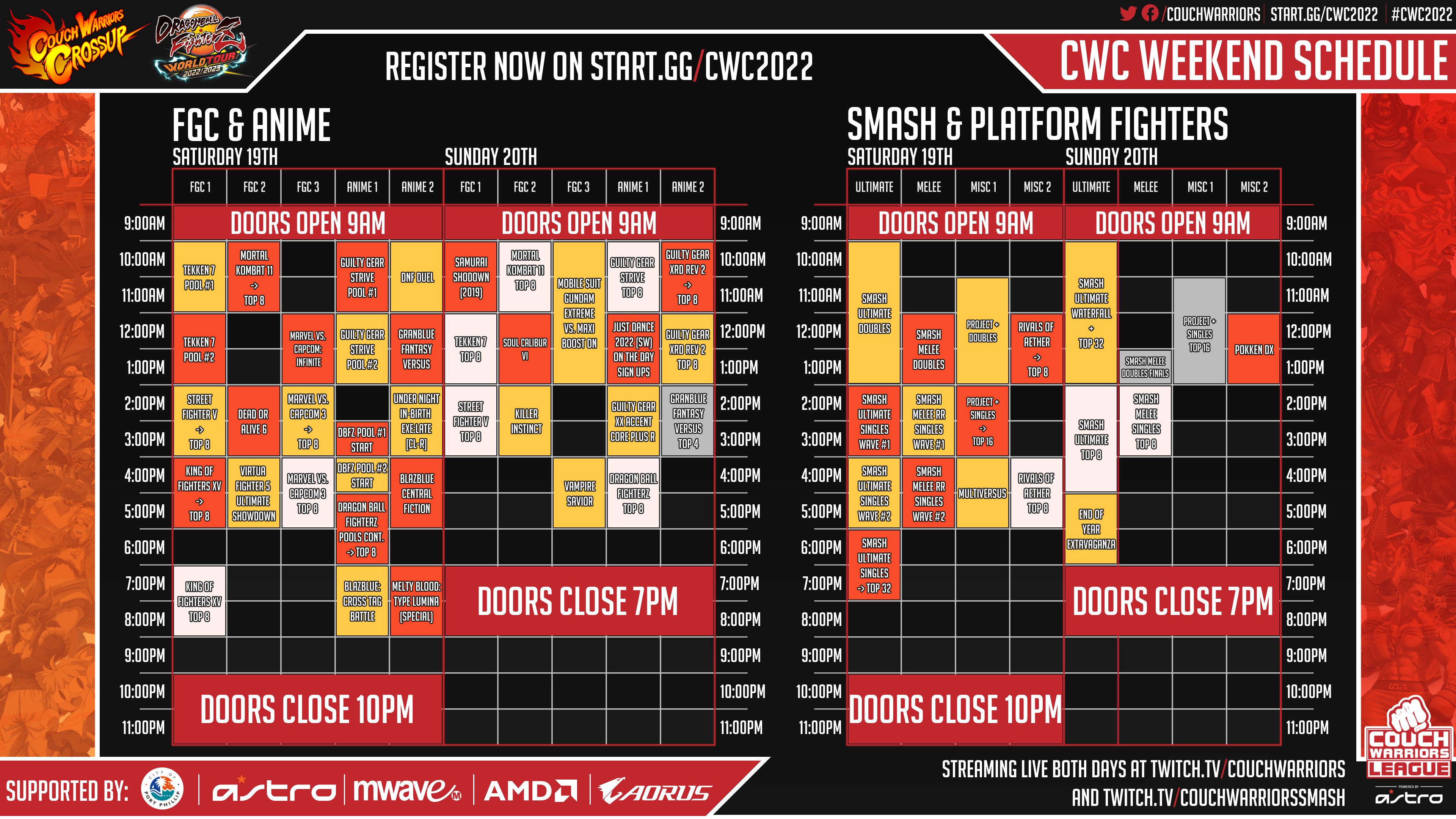 As you can see, there's an incredible depth to the tournament games on offer. Test your might at any game from Gundam to Guilty Gear, and from Melee to Multiversus. The larger games carry a $5-$10 entry fee, but the rest are free to enter for registered players. You could be gaming all weekend without ever touching the casual setups!
Take note though – some of the most popular games (DBFZ, Guilty Gear: Strive and Tekken 7) are closing registration at 11:59PM (AEDT) on the 16th. You still have time to put your name on the challengers rolls…
The Prizes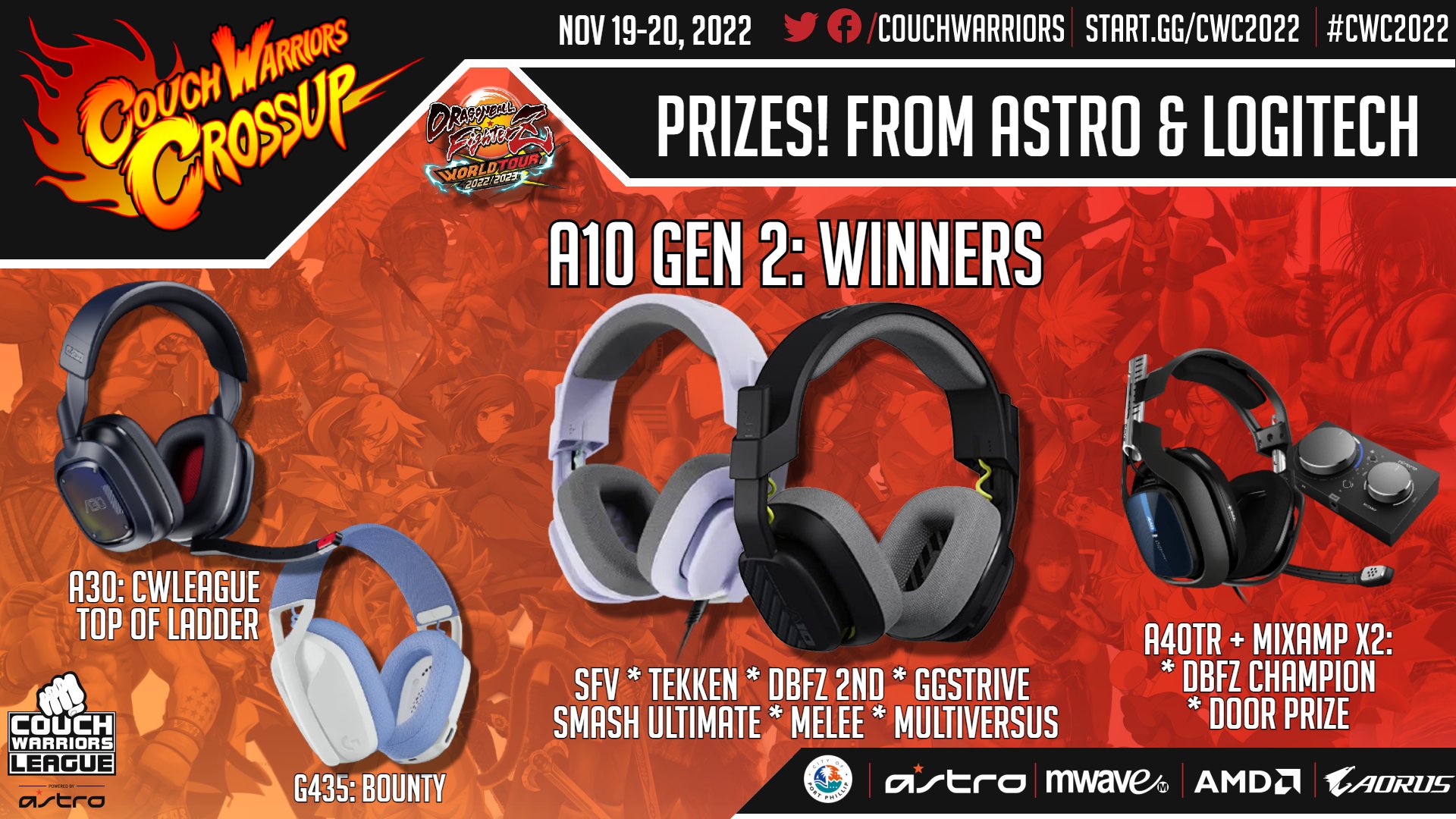 Our amazing partners at ASTRO Gaming, Mwave and Logitech have stepped up yet again when it comes to prizes, and a lot of our winners will be walking out of St. Kilda Town Hall with cutting-edge audio gear.
In addition to awarding all our seasonal CouchWarriors League points leaders with the new A30 gaming headset, we have some G435 headsets to award to the first players to claim the bounty on each of those champions' heads – more on that below.
Of course, we've set aside even more prizes to make sure the CWC champions in each of our major games is recognized for their efforts at a major. They'll all be receiving Gen 2 A10 headsets – as will the overall runner up on the weekend for DBFZ. As for the winner of this DBFZ World Tour event? They receive an entire A40TR + MixAmp X2 package!
There are a LOT more prizes to spread out across the smaller tournaments, as well as door prizes and other fun giveaways, for a total prize pool of over $15,000. Why not come and get a piece of that for yourself?
The Bragging Rights
Another thing you can get a piece of at CouchWarriors Crossup this weekend?? CWL championship glory. Yes, we've already crowned our CouchWarriors League season champions, but it'd be anticlimactic to just let things end on a bloodless point count!
So, we've invited our champions to come down and defend their claim to the throne against all comers in a high-stakes, open-entry tournament. Will you prove yourself to be a more worthy champion? Beat any of these guys in bracket, and you'll immediately win some bonus prizes for claiming their bounty, on top of whatever you get for your overall finish.
The World Tour
Dragon Ball FighterZ World Tour is coming to Australia! Join the Power Event at CouchWarriors Crossup this November 19-20 at St Kilda Town Hall.
Register here: https://t.co/fLwIIiKls6
Follow @CouchWarriors for more updates! #DBFZWT #CWC2022 pic.twitter.com/RI5vt1KHbK

— Bandai Namco AU (@BandaiNamcoAU) November 6, 2022
DragonBall FighterZ has one of the most passionate and motivated communities of any game in the FGC. While it's not currently a featured game in the CouchWarriors League, we've continued to follow the scene and support its players at CWL events – and now they will once again take their place at center stage!
CouchWarriors Crossup has again been named a Power Event on Bandai's official DragonBall FighterZ World Tour this year, automatically raising the stakes and the prize pool. With those extra incentives to draw in the very best players from the region, this will no doubt be a peak for Australian DBFZ in 2022; a treat for players and spectators alike.
The Streams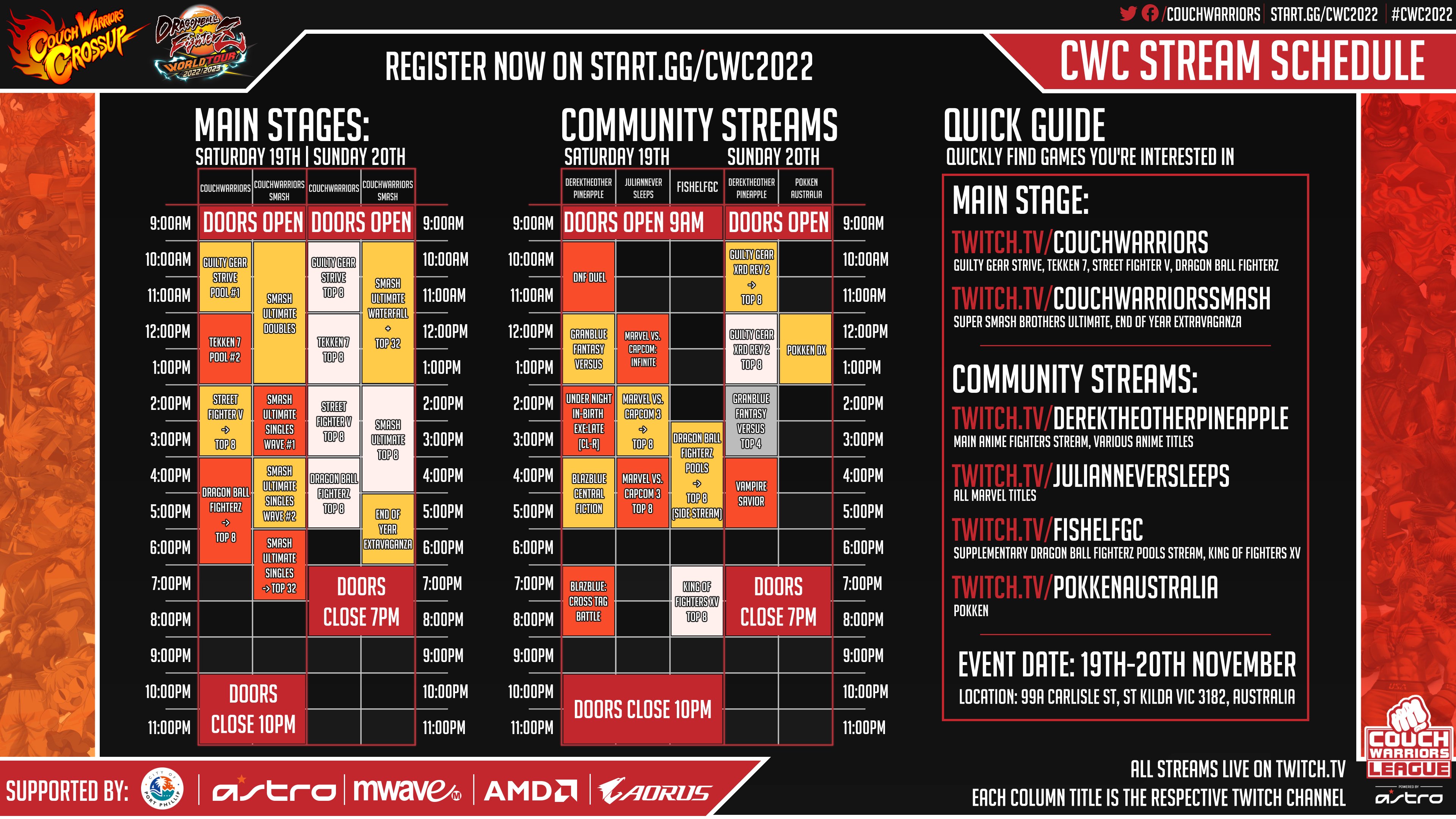 Australia is a vast country, and we don't want anyone in our community to feel left out of the action just because they can't make it down to Melbourne for the weekend.
A raft of official channels and trusted community streams will ensure you have tournament coverage from every angle imaginable, with favorite commentators in each game stepping up to the mic. Follow the channels from the above graphic and you can be sure you won't be missing your favorite part of the tournament.
The Call to Arms
Remember, there's roughly two days from time of writing to when certain CouchWarriors Crossup tournaments close registration. If you like what you see here, make sure you swing by the start.gg page right now and sign up to everything you're interested in.
In the meantime, stay tuned to this site for any news updates, or join the discussion on CouchWarriors Twitter. You can check the CouchWarriors League standings at the CWL website, even after the new season begins if you want to.
The post
CouchWarriors Crossup is Upon Us!
first appeared on
CouchWarriors
.