CouchWarriors League 2021 – return of offline events!
March 9, 2021
Written by Berzerk
CouchWarriors League returns for 2021, and as we steadily see restrictions pulled back, we are returning with live, offline events for the community!
Online and Offline
Online – This year we are once again running Online tournaments with feature games Street Fighter V, Tekken 7, Smash Bros Ultimate, Smash Bros Melee, and now – Dragonball FighterZ!
Offline – In addition, look forward to LIVE offline ranking battles every month in Melbourne, Sydney, Brisbane and Adelaide.  Ranking battle events are the best place to learn, level up, just enjoy casuals and of course, to show your skills!
Prizes and rewards
We will have more to announce, similar to last year expect prizes for top of table placers, and pot bonuses for special events.
Points system
The points system remains the same, however post COVID with more live events, remember that offline events count for more points, and Majors count for double that!
Online Win: 5 points
Offline (Ranbat) Win) 10 points
Major Win: 20 points.
All games ranked
This year we're also including rankings for additional games often played at Ranking Battle live events (See ALL games sectoin). Track your progress and compare to your rivals including interstate using the CouchWarriors League website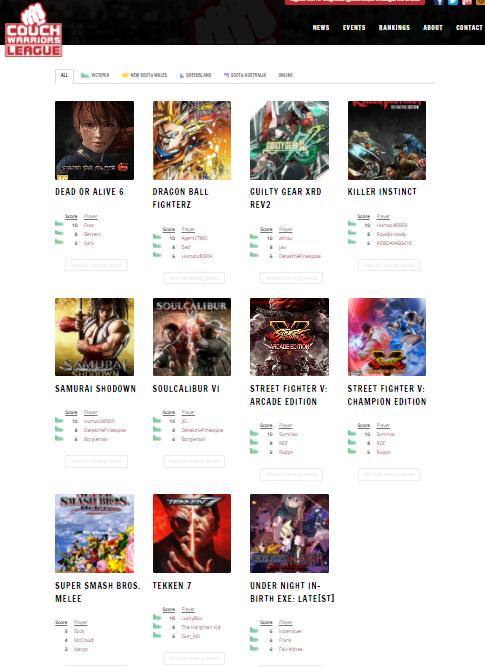 The post
CouchWarriors League 2021 – return of offline events!
first appeared on
CouchWarriors
.